LET'S HELP SMALL BUSINESSES STAY AFLOAT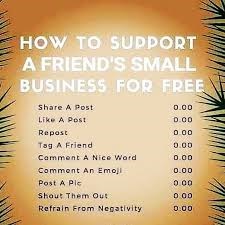 While Small and mid-size enterprises (SMEs) play an important role in the economy, employing vast numbers of people and helping to shape innovation, Governors across our great Nation have instituted EMERGENCY PROCEDURES, closing Non-Essential businesses, and crippling our economy. As if running a small business wasn't hard enough now businesses have to decide between closing for good or potentially risking the health of its patrons.
If your business is lucky enough to be considered "Essential" at least you have some semblance of a lifeline, but you have to let people know that you are still there for them.
How do you get the word out? How do you afford to when revenue is at a crawl at best?
Luckily, I am a small business owner as well (I understand your pain) and for years my business has specialized in just that, but now I want to give back as best I can. That's why our campaign has partnered with my firm, www.MillersConsult.com to help you serve us all.
For the duration of this Emergency, Miller & Associates Consulting will be providing FREE marketing or consultations for five businesses each week until the Nevada Governor decides we are fully open for business, and this State of emergency is over.
WE WILL BE OFFERING DIRECT DIGITAL MARKETING TO YOUR CUSTOMERS NEAR YOUR BUSINESS TO LET THEM KNOW THAT YOU ARE OPEN, AND SERVING THEM...FOLLOWING the Centers for Disease Control (CDC) guidelines of course.
It's simple, Here is how it works, there is no lottery or raffle, it's first come first served.
Simply visit
and select 'Contact"
leave your information and mention in the message section that you are a small business owner and want to take part in our offer, that's it.
Someone from Miller and Associates will reply, provide you with the details and begin working for your business for FREE to get the word out.
(No strings and no cost, no small print!)
Oh and it's okay if you don't support our campaign, as your future Assemblyman, Its my responsibility to represent your interests even if we have a difference in interests...after all, its AMERICA!
I'm working to get the UNITED back in the STATES of AMERICA!